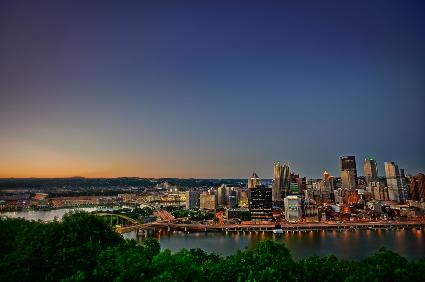 When the G20 Summit came to Pittsburgh in late 2009, the national press corps wondered aloud, "Why Pittsburgh?" We've been home to the birth of industries that built America, the bedrock of the labor movement, the home to rough and tumble sports legends. All true. A smoky, dirty, industrial city? Well, wrong. Pittsburgh has been reborn. From our heritage as a steel town, to the Most Livable City – how did that happen? What is it about Pittsburgh that made it rebound into a cool, green, beautiful place for families to prosper in the 21st Century?

We at Pittsburgh City Living want to tell you that story, and make you a permanent part of our constant transformation. We'll turn you on to programs that will help make it even easier to come here when you are inspired.

If you haven't ever been here you'll find images, ideas, places and people that answer the question, Why is Pittsburgh America's Most Livable City?

If you are living here, you'll find great ideas about what to do next, where to go, and where to buy your next home.

If you are from here, but haven't been back in a while, we'll give you a thousand and one reasons to reconsider why you ever left in the first place.

Why Pittsburgh?

We'll tell you.

But, hey, don't take our word for it. Pittsburgh is being discussed world-wide, and here's just some of what everyone else is saying –

Pittsburgh offers a vibrant and affordable quality of life like no other, and boasts the second best view in the United States from atop Mt. Washington, according to USA Today. In terms of affordability, the cost of housing in Pittsburgh is about 78% of the national average. But lower cost of living here doesn't mean a lower quality of life. Sperling's Best Places ranked Pittsburgh third for lowest crime rate among the top 50 U.S. metropolitan areas, and as the sixth best city for relocating families; The U.S. Bureau of Census identified Pittsburgh as having one of the shortest average daily commutes (25 minutes); and Forbes Magazine recognized Pittsburgh among the top 10 cleanest cities in the world.

As one of the top ten best U.S. cities to earn a living (Forbes Magazine), Pittsburgh's knowledge and innovation-driven economy is a global one, with more than 100 multi-billion dollar international companies headquartered in the former "Steel City". A hot bed of intellectual capital and opportunity, Pittsburgh-based products, services and solutions touch the lives of people worldwide.

Pittsburgh has certainly shed its smoky image of years past by improving overall air and water quality. Pittsburgh is recognized as a national leader in LEED-certified space and green building manufacturing, and consistently ranks in the top-five "green" cities in the country.


Won't You Be Our Neighbor?
Since its foundation as a trading post, Pittsburgh has been a prime destination for traders, artists and businesses. Located at the convergence of the Monongahela, Allegheny, and Ohio rivers, generations of people from around the world have been drawn to the city and form our diverse neighborhoods.

Explore Pittsburgh and you will find evidence of this diversity in each of our 90 distinct neighborhoods, which are home to unparalleled museums, incredible performance venues, cuisine from every corner of the world, and thriving local businesses – some of which have been here for decades, and others that are just cropping up thanks to a new generation of entrepreneurs that have recognized all that Pittsburgh has to offer.

By reinventing itself during hard economic times in the 1980s and 1990s, Pittsburgh avoided the brunt of the current recession, and continues to maintain strong job and housing markets. Ranked as the No. 9 smartest place to live by Kiplinger's Personal Finance, Pittsburgh has also been deemed a U.S. safe haven in real estate (Kiplinger's) and the No. 4 recession-proof place to retire (MSN Money).

So whether you're a first-time homebuyer looking for a safe and beautiful place to raise a family, a young professional looking for job security in an exciting and vibrant urban center, or a retiree seeking a relaxed and cultural atmosphere to enjoy the best days of your life… the City of Pittsburgh has a neighborhood that is just right for you!

We are just waiting to welcome you. So come on in, and find your Pittsburgh Neighborhood match!

This site has been developed with the support of government and businesses that are ready to welcome you to your new City.
Schools
Families in Why Pittsburgh? enjoy a variety of educational options. The Pittsburgh Public School District – which was recently named one of the Country's Top Ten Large Urban Districts by GreatSchools.org – offers a mix of neighborhood schools and specialized magnet choices in or near Why Pittsburgh?, including:
Please visit the Pittsburgh Public Schools website for more information.
If you are interested in private, parochial, or charter school options, please visit the "Education" section of our resource page for links.
Libraries
The Carnegie Library of Pittsburgh is one of the oldest and most respected public library systems in the country. Established by Andrew Carnegie as a public trust in 1895, CLP has 19 locations throughout the City of Pittsburgh. Neighbors in Why Pittsburgh? enjoy these branches:
Pittsburgh Links
Pittsburgh Videos