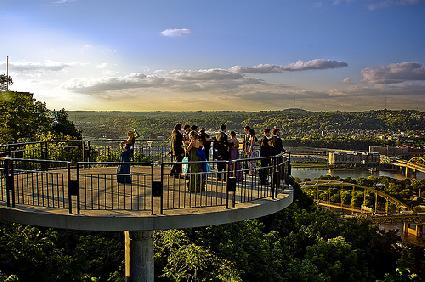 Mount Washington is the location of Pittsburgh's "Grand View". Perched on the hilltops just south of downtown, this neighborhood provides the most scenic view of Pittsburgh and the surrounding region. If you stand on one of the many Grandview Avenue observation decks, you literally have the city at your feet.

Adults in their twenties and thirties are the primary residents of Mt. Washington, as well as young families and singles. Residents enjoy being close to downtown Pittsburgh, the North Shore, the Southside, and Station Square all at once. Whether it's commuting to work or going out on a Friday night, you are strategically located for anything as a Mt. Washington resident.

Homes on Mt. Washington range from finely restored homes from the early 1900s to the red-bricks of the 1950s, to the newest single-family and multi-unit architecture styles.

The neighborhood also boasts active business districts and a wide range of parks, green spaces, and recreational activities, and is home to Pittsburgh's newest Regional Park, currently called the Grand View Scenic Byway Park. At 235 acres, the GVSBP provides spectacular views, playing fields, and trails. The Park's soon to be released trail plan will provide up to 18 miles of trails for all skill levels.

The Duquesne and Monongahela Inclines are unique modes of transportation that can take you from the Station Square area to Mt. Washington.

The business distict along Shiloh Street is steadily growing and has attracted over $3 million dollars in investment in just 3 years. The Vu+ website was designed to inform visitors that there is more to Mount Washington. A seasonal outdoor art market had its debut this past summer and welcomed over 50 local artists and musicians, grossed over $6,000 in sales, and ran for 20 consecutive weekends. Lots of new development is underway or in the planning stages, adding to the excitement of this community!
Schools
Families in Mount Washington enjoy a variety of educational options. The Pittsburgh Public School District – which was recently named one of the Country's Top Ten Large Urban Districts by GreatSchools.org – offers a mix of neighborhood schools and specialized magnet choices in or near Mount Washington, including:
Pittsburgh Whittier K-5
Pittsburgh Grandview K-5
Pittsburgh Phillips International Studies K-5 Magnet
Pittsburgh Murray PreK-8
Pittsburgh Arlington PreK-8
Pittsburgh South Hills 6-8
Pittsburgh Brashear 9-12
Please visit the Pittsburgh Public Schools website for more information.
If you are interested in private, parochial, or charter school options, please visit the "Education" section of our resource page for links.
Libraries
The Carnegie Library of Pittsburgh is one of the oldest and most respected public library systems in the country. Established by Andrew Carnegie as a public trust in 1895, CLP has 19 locations throughout the City of Pittsburgh. Neighbors in Mount Washington enjoy these branches:
Knoxville Library
Mt. Washington Library
South Side Library
Mount Washington Links
Neighborhood Organizations
Mount Washington Community Development Corporation

Vu+ There's More to Mount Washington
Mount Washington Videos
Pittsburgh's 7 Wonders: The Views From Mount Washington
Chatham Village – Mt. Washington
Citiparks Pittsburgh Promo Reel Episode One