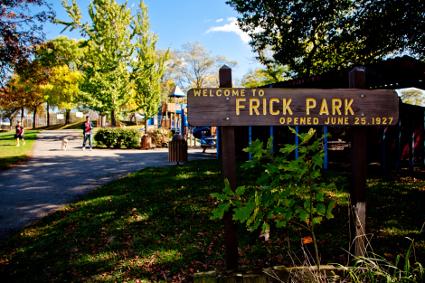 Squirrel Hill is located east of Downtown, and is one of Pittsburgh's most popular neighborhoods. In fact, Squirrel Hill is where the real-life Mr. Rogers made his home.

Squirrel Hill owes its easygoing prosperity to the fact that it wasn't revived – most of its middle-class denizens never abandoned it. A center for Pittsburgh's Jewish community, Squirrel Hill has proved both adaptable and constant. Malls can't seem to displace Murray and Forbes avenues, anchored by institutions like Jerry's Records and Gullifty's restaurant.

Aside from restaurants and specialty shops, many neighborhood services are located along the Forbes-Murray business district, including groceries, a drugstore, a hardware store, a newly renovated library branch and a neighborhood movie theater.

Though a quintessential family neighborhood, Squirrel Hill is also home to many students – both graduates and undergraduates – of local universities. Squirrel Hill's leafy residential streets are an idyllic setting to raise a family, as its solid brick houses merge with Schenley Park to the west and Frick Park to the east.

Homes in Squirrel Hill range from high-rise apartments on Forbes and Murray avenues to sprawling brick mansions on Fair Oaks. Whether you're looking for a quaint apartment or a contemporary house with a garage, you'll find it in Squirrel Hill.
Schools
Families in Squirrel Hill enjoy a variety of educational options. The Pittsburgh Public School District – which was recently named one of the Country's Top Ten Large Urban Districts by GreatSchools.org – offers a mix of neighborhood schools and specialized magnet choices in or near Squirrel Hill, including:
Pittsburgh Greenfield K-8
Pittsburgh Colfax K-8
Pittsburgh Minadeo PreK-8
Pittsburgh Linden International Studies K-5 Magnet
Pittsburgh Sterrett Classical Academy 6-8 Magnet
Pittsburgh Allderdice 9-12
Please visit the Pittsburgh Public Schools website for more information.
If you are interested in private, parochial, or charter school options, please visit the "Education" section of our resource page for links.
Libraries
The Carnegie Library of Pittsburgh is one of the oldest and most respected public library systems in the country. Established by Andrew Carnegie as a public trust in 1895, CLP has 19 locations throughout the City of Pittsburgh. Neighbors in Squirrel Hill enjoy these branches:
Squirrel Hill Library
Main (Oakland) Library
Squirrel Hill Links
Neighborhood Organizations