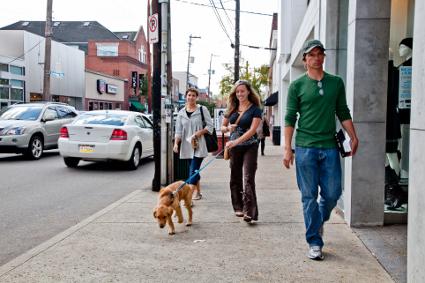 Shadyside, located in the heart of Pittsburgh's East End, was one of wealthy Pittsburghers' first escapes from the central city, when the Pennsylvania Railroad tracks – which now accommodate the East Busway – made getting away possible.

Well-maintained, stately Victorian mansions stand in quiet elegance alongside carefully restored homes. Apartment and condominium buildings full of hardwood floors and old-fashioned architectural character sit alongside newer, modern homes – all of which are woven together on the shady, tree-lined streets, creating a beautiful neighborhood tapestry. Since the 1920s a mix of affluent families, young professionals, artists, students, and apartment dwellers have settled in Shadyside.

Walnut Street, Shadyside's prosperous commercial and entertainment core, offers a bustling atmosphere of boutiques, shops, lounges, and restaurants designed to suit the discriminating tastes of both residents and visitors. Walnut's prosperity has been so plentiful that it's spilled over to the Ellsworth Avenue and Highland Avenue business districts.

Two important houses of worship reside in Shadyside – Rodef Shalom Synagogue, whose congregation played a role in the formation of Reform Judaism, and the prestigious Shadyside Presbyterian Church, so strongly associated with Pittsburgh's Establishment that it was the site of protests during the mill closures of the 1980s.
Schools
Families in Shadyside enjoy a variety of educational options. The Pittsburgh Public School District – which was recently named one of the Country's Top Ten Large Urban Districts by GreatSchools.org – offers a mix of neighborhood schools and specialized magnet choices in or near Shadyside, including:
Pittsburgh Liberty International Studies K-5 Magnet
Pittsburgh Fort Pitt PreK-5
Pittsburgh Montessori PreK-5 Magnet
Pittsburgh Fulton International Studies PreK-5 Magnet
Pittsburgh Dilworth Tradtional Academy PreK-5 Magnet
Pittsburgh Woolslair K-5
Pittsburgh Obama International Baccalaureate 6-12 Magnet
Pittsburgh Peabody 9-12
Please visit the Pittsburgh Public Schools website for more information.
If you are interested in private, parochial, or charter school options, please visit the "Education" section of our resource page for links.
Libraries
The Carnegie Library of Pittsburgh is one of the oldest and most respected public library systems in the country. Established by Andrew Carnegie as a public trust in 1895, CLP has 19 locations throughout the City of Pittsburgh. Neighbors in Shadyside enjoy these branches:
Squirrel Hill Library
East Liberty Library
Main (Oakland) Library
Shadyside Links
Neighborhood Organizations

Shadyside Action Coalition
Shadyside Chamber of Commerce

Attractions

Shadyside Shopping

Education

Chatham University

Grocery Stores

Giant Eagle Market District
Shadyside Videos