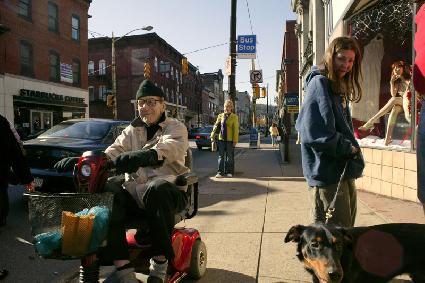 South Side is a neighborhood offering variety like no other. While the area's past is filled with rich history, it has more recently been transformed into a new, modern, and exciting neighborhood. Thinking about becoming part of the mix? Be assured you'll fit right in to this diverse community.

Our "Great American Main Street," East Carson, a local and national historic district, is renowned for its 15 blocks of Victorian architecture and is a popular destination for fashionable nightlife and the trendiest spots in the 'Burgh. The recently developed SouthSide Works complex, located on the upper end of Carson Street, incorporates one-of-a-kind national and local retailers, exclusive restaurants and high-end urban living units into the fabric of the community.

On and off Carson, you'll find boutiques, restaurants, art galleries, theatre, and live music venues, all within easy walking distance. But that's just the upscale and chic side. You can also get a tattoo, dye your hair purple, and drink a yard in the South Side – a combination that makes for some of the best people watching around!

Venture deeper into the neighborhood and you'll find that the South Side flats and slopes offer some of the best recreation in Pittsburgh. Hike, bike, or blade along a five-mile riverfront trail, or try climbing more than 5,000 public steps that lead to impressive city views.

The South Side Flats is also enjoying a residential renaissance. New construction is being erected throughout the neighborhood, with homes selling almost as fast as developers can build them.
Schools
Families in South Side Flats enjoy a variety of educational options. The Pittsburgh Public School District – which was recently named one of the Country's Top Ten Large Urban Districts by GreatSchools.org – offers a mix of neighborhood schools and specialized magnet choices in or near South Side Flats, including:
Pittsburgh Whittier K-5
Pittsburgh Grandview K-5
Pittsburgh Phillips International Studies K-5 Magnet
Pittsburgh Murray PreK-8
Pittsburgh Arlington PreK-8
Pittsburgh South Hills 6-8
Pittsburgh Brashear 9-12
Please visit the Pittsburgh Public Schools website for more information.
If you are interested in private, parochial, or charter school options, please visit the "Education" section of our resource page for links.
Libraries
The Carnegie Library of Pittsburgh is one of the oldest and most respected public library systems in the country. Established by Andrew Carnegie as a public trust in 1895, CLP has 19 locations throughout the City of Pittsburgh. Neighbors in South Side Flats enjoy these branches:
South Side Flats Links
Neighborhood Organizations

Southside Development Corporation

Attractions

SouthSide Works
South Side Flats Videos
Take A Free Guided Tour Of The South Side
South Side Works