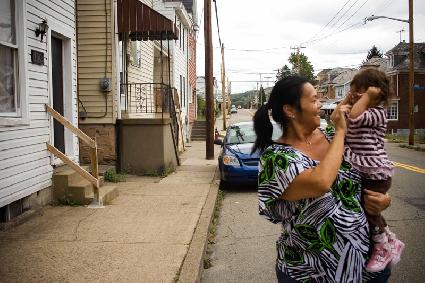 Located northwest of Downtown, Marshall-Shadeland, also known as Brightwood, is an affordable neighborhood that offers its residents convenient access to recreational activities and excellent public transit, as well as easy access to major roadways Route 65, Route I-279, and the highway network on the North Side.

The Carnegie Science Center and Heinz Field are nearby, as well as Riverview Park, the Ohio River Riverfront Trail, and the Woods Run Branch of Carnegie Library.

Marshall-Shadeland is a residential neighborhood full of affordably priced two-story frame and brick homes, occupied by a diverse group of residents.

An active business district provides all of life's conveniences, with two financial institutions, a supermarket, cleaners, florist, pet care shop, corner stores, coffee shop, funeral home, liquor store and beer distributor, car parts store and various restaurants.

Marshall-Shadeland is an excellent family neighborhood, home to the non-profit Providence Family Support Center and other highly regarded daycare facilities. Residents lead strong community organizations, including the Brightwood Civic Group. Regular open community meetings are scheduled, and community participation is encouraged.

The neighborhood holds the Annual Pumpkinfest on the third Saturday in October, and sponsors the Western PA Conservancy flower garden at the corner of Marshall and California Avenues, as well as various other beautification areas.

Schools
Families in Marshall-Shadeland enjoy a variety of educational options. The Pittsburgh Public School District – which was recently named one of the Country's Top Ten Large Urban Districts by GreatSchools.org – offers a mix of neighborhood schools and specialized magnet choices in or near Marshall-Shadeland, including:
Pittsburgh Morrow PreK-5
Pittsburgh Oliver 9-12
Pittsburgh Perry Traditional Academy 9-12 Magnet
Please visit the Pittsburgh Public Schools website for more information.
If you are interested in private, parochial, or charter school options, please visit the "Education" section of our resource page for links.
Libraries
The Carnegie Library of Pittsburgh is one of the oldest and most respected public library systems in the country. Established by Andrew Carnegie as a public trust in 1895, CLP has 19 locations throughout the City of Pittsburgh. Neighbors in Marshall-Shadeland enjoy these branches:
Allegheny Library
Woods Run Library
Marshall-Shadeland Links