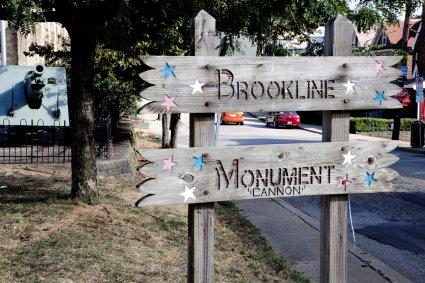 Brookline is the second largest neighborhood in the City of Pittsburgh, claiming over 23,000 residents. A quiet neighborhood that is home to many families, it easily meets the criteria of good housing stock, affordability, ease of commute and shopping, and most of all a strong sense of community.

The neighborhood has a strong core of youth activities, political activism, volunteer and religious organizations – as well as amenities such as two city parks with playgrounds, numerous art galleries nearby, and a newly renovated Carnegie Library.

Boasting a thriving business district with nearly 90 businesses located along a one-mile stretch, Brookline Boulevard provides the convenience of life's necessities, as well as some specialty shops. The boulevard also is home to a collection of local restaurants, pizza shops, bakeries, florists, a wine and spirits store, a beer distributor, barber shop, hair salons and other assorted service businesses.

Brookline is great place for individuals and families who are seeking undiscovered value through good urban demographics and housing stock, easy access to all major roads, a main street business district, a great library, and a strong program of extra-curricular sports for kids.
Schools
Families in Brookline enjoy a variety of educational options. The Pittsburgh Public School District – which was recently named one of the Country's Top Ten Large Urban Districts by GreatSchools.org – offers a mix of neighborhood schools and specialized magnet choices in or near Brookline, including:
Pittsburgh Carmalt Science and Technology PreK-8 Magnet
Pittsburgh Concord K-5
Pittsburgh Roosevelt PreK-5
Pittsburgh West Liberty K-5
Pittsburgh Brookline K-8
Pittsburgh South Brook 6-8
Pittsburgh Carrick 9-12
Please visit the Pittsburgh Public Schools website for more information.
If you are interested in private, parochial, or charter school options, please visit the "Education" section of our resource page for links.
Libraries
The Carnegie Library of Pittsburgh is one of the oldest and most respected public library systems in the country. Established by Andrew Carnegie as a public trust in 1895, CLP has 19 locations throughout the City of Pittsburgh. Neighbors in Brookline enjoy these branches:
Brookline Links
Neighborhood Organizations

South Pittsburgh Development Corporation
Brookline Videos
A Brief History of Brookline Pittsburgh