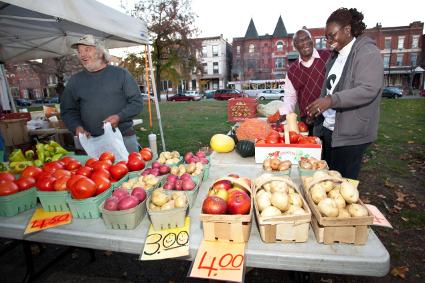 Just across the river from Pittsburgh's Cultural District and next to the North Shore, you'll find Deutschtown, also known as East Allegheny. Originally the home of many German immigrant families, the area today not only remains traditional and historic, but is now also considered to be an eco-friendly, young, and developing area of the Northside. The convenient riverside location connects East Allegheny to the rest of Pittsburgh, with easy access to all of the city's major highways.

The modern history of Deutschtown dates back to the 18th century. Proud of their roots, residents worked hard to receive historic designations to preserve the wonderful remnants of the local heritage, much of which was shaped by German immigrants. Deutschtown offers great historic architecture alongside new town homes, and a scenic riverfront park, shopping, businesses, churches and recreation are all conveniently located within walking distance of this hip community.

Since 2000, Deutschtown has been experiencing growing momentum. This pioneering community now counts many young professionals among its residents, and newer developments include renovated homes, new stadiums for the Pirates and Steelers, and new business, such as the recently opened Rivers Casino.
Schools
Families in East Allegheny enjoy a variety of educational options. The Pittsburgh Public School District – which was recently named one of the Country's Top Ten Large Urban Districts by GreatSchools.org – offers a mix of neighborhood schools and specialized magnet choices in or near East Allegheny, including:
Pittsburgh Manchester K-8
Pittsburgh Allegheny Traditional Academy K-8 Magnet
Pittsburgh King K-8
Pittsburgh Schiller Classical Academy 6-8 Magnet
Pittsburgh Oliver 9-12
Pittsburgh Perry Traditional Academy 9-12 Magnet
Please visit the Pittsburgh Public Schools website for more information.
If you are interested in private, parochial, or charter school options, please visit the "Education" section of our resource page for links.
Libraries
The Carnegie Library of Pittsburgh is one of the oldest and most respected public library systems in the country. Established by Andrew Carnegie as a public trust in 1895, CLP has 19 locations throughout the City of Pittsburgh. Neighbors in East Allegheny enjoy these branches:
Allegheny Library
Woods Run Library
East Allegheny Links
Neighborhood Organizations

East Allegheny Community Council