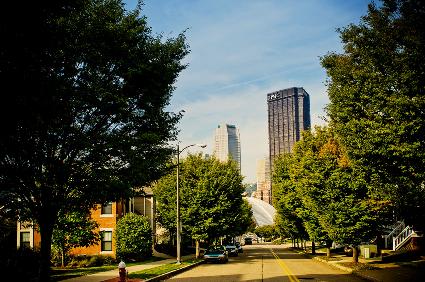 Deep history, a strong presence, and a bright future.
The Hill District is a collection of neighborhoods that is considered by many to be the cultural center of African-American life in Pittsburgh. Harlem Renaissance poet Claude McKay once called the district "the crossroads of the world," referring to the neighborhood's heyday in the 1930s – 1950s.

It is known to many Pittsburghers as simply "The Hill", and is home to almost 17,000 people who walk, drive or ride the bus to Downtown or Oakland.

The neighborhood has a rich cultural history. The Crawford Grill, still known for its outstanding jazz, has heard the music of greats like Lena Horne and George Benson, while the Hill House provides activities and entertainment for today's generation.

UPMC Mercy Hospital offers top-notch health care to the neighborhood.

Home ownership is affordable in the Hill, and several new housing developments make for attractive opportunities, like Crawford Square, Bedford Hill Homes, and Wylie Avenue homes.

The new Consol Energy Center, the first LEED-certified NHL arena, is at the edge of the Hill District and connects the community with Downtown. Several public art projects will create a seamless transition from arena to neighborhood.

Hill District neighbors have a strong sense of community and history. They work through their churches and community organizations to generate pride and new development.
Schools
Families in Hill District enjoy a variety of educational options. The Pittsburgh Public School District – which was recently named one of the Country's Top Ten Large Urban Districts by GreatSchools.org – offers a mix of neighborhood schools and specialized magnet choices in or near Hill District, including:
Pittsburgh Vann PreK-8
Pittsburgh Weil PreK-8
Pittsburgh Miller PreK-8
Pittsburgh CAPA Creative and Performing Arts 6-12 Magnet
Pittsburgh Science and Technology 6-12 Magnet
Pittsburgh Milliones University Prep 6-12 Magnet
Please visit the Pittsburgh Public Schools website for more information.
If you are interested in private, parochial, or charter school options, please visit the "Education" section of our resource page for links.
Libraries
The Carnegie Library of Pittsburgh is one of the oldest and most respected public library systems in the country. Established by Andrew Carnegie as a public trust in 1895, CLP has 19 locations throughout the City of Pittsburgh. Neighbors in Hill District enjoy these branches:
Downtown/Business Library
Hill District Library
Main (Oakland) Library
Hill District Links
Neighborhood Organizations

News & Information
New Pittsburgh Courier