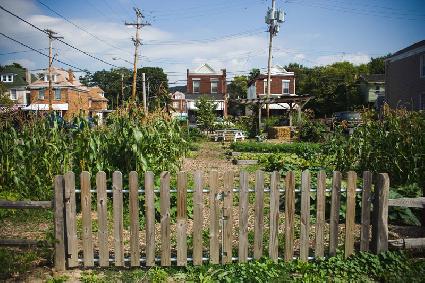 Homewood A Community Worth Watching
Homewood is more than a place to live; it's a place to get involved. Located east of Downtown Pittsburgh, Homewood is an affordable community for home ownership, and residents who are interested in renovating their properties are eligible for the City of Pittsburgh's 10-year tax abatement program.

There are numerous social service and economic development agencies in Homewood, including the Salvation Army, YMCA, YWCA, Homewood Brushton Revitalization Development Corporation, Operation Better Block and Rosedale Block Cluster.

Homewoods newly renovated Carnegie Library offers a place for relaxation and reading. Listening to books and access to computers. They also offer rooms for meetings or other community gatherings.
If you are interested in music, the library is a great place to go to listen to jazz and even to watch or learn to play a game of chess.

Neighbors work together to solve problems and identify opportunities. The neighborhood is also home to the Community College of Allegheny County Homewood Campus and many thriving businesses.

The Homewood Colliseum hosts a number of Arts and Cultural events. In this same building is Homewoods Bowling Alley.

Homewood residents also have access to the shopping and entertainment resources available in the neighboring suburban boroughs of Wilkinsburg, Penn Hills and Aspinwall.

City neighborhoods of East Liberty, Squirrel Hill, Shadyside, and Oakland can be reached in a short drive or bike ride. Also public transportation can get you to these areas in 15 minutes. These areas provide even further exciting opportunities for shopping, picnicking, touring museums,theatre and participating in a variety of cultural events.
Schools
Families in Homewood enjoy a variety of educational options. The Pittsburgh Public School District – which was recently named one of the Country's Top Ten Large Urban Districts by GreatSchools.org – offers a mix of neighborhood schools and specialized magnet choices in or near Homewood, including:
Pittsburgh Lincoln K-8
Pittsburgh Faison PreK-8
Pittsburgh Westinghouse 9-12
Please visit the Pittsburgh Public Schools website for more information.
If you are interested in private, parochial, or charter school options, please visit the "Education" section of our resource page for links.
Libraries
The Carnegie Library of Pittsburgh is one of the oldest and most respected public library systems in the country. Established by Andrew Carnegie as a public trust in 1895, CLP has 19 locations throughout the City of Pittsburgh. Neighbors in Homewood enjoy these branches:
Homewood Links
Neighborhood Organizations

Rosedale Block Cluster