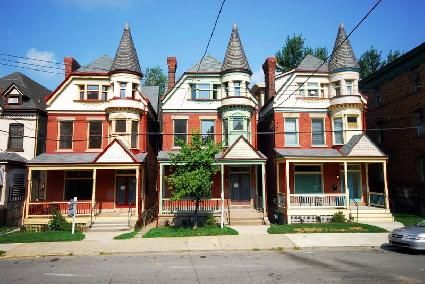 Named for the common grazing lands – "liberties" – east of Pittsburgh's original settlement, East Liberty became a city neighborhood when the trolley lines arrived. Soon its commercial center rivaled Downtown and produced luminaries like dancer Gene Kelly and Billy "Take the A Train" Strayhorn.

In the 1960s East Liberty became the poster child for failed urban renewal, but massive redevelopment efforts over the past decade have revitalized this historic community.

Historic buildings are being rehabbed, like the ornate old Regent Theatre, renamed the Kelly-Strayhorn. New restaurants, including Paris 66 Bistro and Abay, and bars like the Shadow Lounge – a spot for hip hop and acoustic music – complement the array of ethnic eateries. The Penn Avenue business district has everything from footwear to automotive supplies. Whatever you are looking for, you can find it in East Liberty.

The Home Depot, the first home improvement warehouse located within the boundaries of any major city in the United States, began the major revitalization effort in East Liberty. This was followed quickly by new grocery stores – Giant Eagle Market District, the region's only Whole Foods Market and Trader Joe's – which reassert East Liberty's centrality.

The neighborhood's greatest landmark, the East Liberty Presbyterian Church, endures. Once dubbed the "Mellon Fire Escape" after its robber baron Calvinists, it now embraces a diverse, socially active congregation, who call it the Cathedral of Hope.

Diverse selections of living opportunities are available in East Liberty, and range from apartments to townhomes to century-old Victorians.
Schools
Families in East Liberty enjoy a variety of educational options. The Pittsburgh Public School District – which was recently named one of the Country's Top Ten Large Urban Districts by GreatSchools.org – offers a mix of neighborhood schools and specialized magnet choices in or near East Liberty, including:
Pittsburgh Liberty International Studies K-5 Magnet
Pittsburgh Fort Pitt PreK-5
Pittsburgh Montessori PreK-5 Magnet
Pittsburgh Fulton International Studies PreK-5 Magnet
Pittsburgh Dilworth Tradtional Academy PreK-5 Magnet
Pittsburgh Woolslair K-5
Pittsburgh Obama International Baccalaureate 6-12 Magnet
Pittsburgh Peabody 9-12
Please visit the Pittsburgh Public Schools website for more information.
If you are interested in private, parochial, or charter school options, please visit the "Education" section of our resource page for links.
Libraries
The Carnegie Library of Pittsburgh is one of the oldest and most respected public library systems in the country. Established by Andrew Carnegie as a public trust in 1895, CLP has 19 locations throughout the City of Pittsburgh. Neighbors in East Liberty enjoy these branches:
East Liberty Links
Neighborhood Organizations

East Liberty Development Corporation

Arts & Culture

Grocery Stores

East Liberty Videos
New Stores, Restaurants Coming To East Liberty