What do Queen Elizabeth, Elvis Presley, and Paul Newman have in common? They were all huge pigeon fans. This misunderstood bird is much like Pittsburgh itself – if you only knew more about it, you might just find there is a lot to love!

Pigeons have saved human lives, started major businesses, and were even full-fledged, decorated war heroes – But somehow, it's hard to get folks to be believers.

So here at PittsburghCityLiving, we've chosen the much misunderstood pigeon to guide you through some things you would never have expected about this NOT smoky, NOT dirty, NOT what-you-expected place we call home. Follow our city pigeon friend into the heart of Pittsburgh, and find out how "hell with the lid off" became "America's Most Livable City."

With gritty steel mills long gone, Pittsburgh has truly transformed itself into a leading technological, social and cultural region. World-class instituions are sprinkled throughout the landscape.

Separated by rivers and bridges, defined by hills and demarcated by ravines, Pittsburgh's neighborhoods are each small towns where families live for generations. Vintage to the core, from the working-class, blue-collar traditions, to the turn-of-the-century homes and buildings, Pittsburgh is built on character and soul. Friendliness comes from deep family roots as generations of families have lived within blocks of each other for years, all the while developing a kinship with neighbors and local community. Enjoy the insight and fun facts below and make Pittsburgh your home!
Famous People
Andy Warhol Fred Rogers Jimmy Stewart Cristina Aguilera Dennis Miller Perry Como George W. Ferris Michael Keaton Donnie Iris George Westinghouse George Benson Kurt Angle Dan Marino Johnny Unitas Billy Eckstine Gene Kelly Jonas Salk Art Rooney Roy Eldridge Jeff Goldblum Demi Moore Trent Reznor
Movies Filmed Here
The Mothman Prophecies Wonder Boys Dogma Inspector Gadget Desperate Measures Diabolique Kingpin Boys on the Side Houseguest Sudden Death Milk Money Only You Groundhog Day Money for Nothing Striking Distance Hoffa Lorenzo's Oil The Silence of the Lambs Robocop Gung Ho Flashdance The Deer Hunter Night of the Living Dead Angels in the Outfield
Pittsburgh Firsts
Big Mac Ferris Wheel US Baseball stadium (Forbes Field) World Series Banana Split "Nickelodeon" Motion picture theater Gas Station Zippo Lighter Polio Vaccine TV Station Pull Tab Can Robotics Institute Museum of Art
Fun Facts
Nickname: The 'Burgh
In 2009, Pittsburgh was named most livable city in the United States and 29th-most livable city worldwide
Pittsburgh audiences enjoy the nation's eighth oldest opera company.
Pittsburgh ranked in the top five Most Livable Cities in the 1983, 1989 and 1985 editions of the "Places Rated Almanac."
The fountain at Point State Park, right at the tip of the golden triangle (downtown Pittsburgh) is fed by a glacial formation and sprays 6,000 gallons per minute.
Pittsburgh is home to nine Fortune 500 companies.
The Carnegie Museum of Art opened in 1895 as the world's first museum of modern art.
Mister Rogers' real neighborhood was Oakland, home to WQED (the first public television in the country) and the "Neighborhood of Make Believe."
There are 720 bridges within city limits, and 15 major bridges crossing downtown Pittsburgh alone.
With 712 sets of stairs, the city of Pittsburgh has almost as many steps as the next two cities on the list (Cincinnati, 400 and San Francisco, 350) combined (The Steps of Pittsburgh, Fineview Step-A-Thon, Pittsburgh StepTrek)
Steel produced for The Empire State Building and The Golden Gate Bridge came from Pittsburgh
Pittsburgh is the nation's largest inland port, providing access to the extensive 9,000 mile U.S. inland waterway system.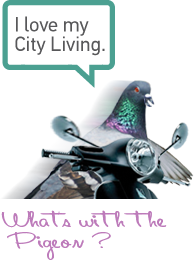 The pigeon represents the quintessential urban in all of us – they are adaptable, independent, adventurous, endearing and smart.

They have explored Pittsburgh with breathtaking aerial views and understand the subtleties that make this town truly unique.

Who needs an eagle? So go ahead and love a pigeon today!