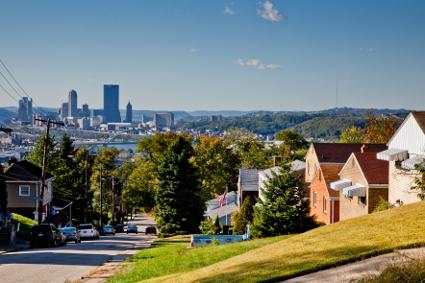 Greenfield is located southeast of Downtown and is a family-oriented neighborhood accessible by Second Avenue, the Parkway East and the Boulevard of the Allies. The hilly topography of Greenfield provides spectacular views of the Downtown skyline and adjacent Schenley Park.

Homebuyers can find a house in this neighborhood to fit their needs, from Victorians to Pittsburgh boxes and post-World War II ranch homes. A homebuyer looking for convenience and affordability can find the home of their dreams in Greenfield.

The Greenfield Avenue and Murray Avenue business districts are thriving in this area of Pittsburgh's East End, and the Greenfield neighborhood is within walking distance of Squirrel Hill's many shops and eateries.

Greenfield is also home to the Magee Recreation Center, with most of the community activities focusing on youth programs. Families who move here tend to stay, and most of the neighborhood's residents have lived in their homes for more than five years.
Schools
Families in Greenfield enjoy a variety of educational options. The Pittsburgh Public School District – which was recently named one of the Country's Top Ten Large Urban Districts by GreatSchools.org – offers a mix of neighborhood schools and specialized magnet choices in or near Greenfield, including:
Pittsburgh Greenfield K-8
Pittsburgh Colfax K-8
Pittsburgh Minadeo PreK-8
Pittsburgh Linden International Studies K-5 Magnet
Pittsburgh Sterrett Classical Academy 6-8 Magnet
Pittsburgh Allderdice 9-12
Please visit the Pittsburgh Public Schools website for more information.
If you are interested in private, parochial, or charter school options, please visit the "Education" section of our resource page for links.
Libraries
The Carnegie Library of Pittsburgh is one of the oldest and most respected public library systems in the country. Established by Andrew Carnegie as a public trust in 1895, CLP has 19 locations throughout the City of Pittsburgh. Neighbors in Greenfield enjoy these branches:
Squirrel Hill Library
Hazelwood Library
Main (Oakland) Library
Greenfield Links
Neighborhood Organizations

Greenfield Organization

Connect Greenfield Blog