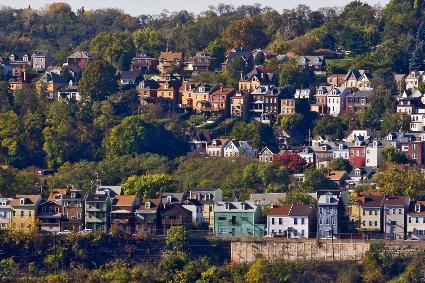 Perched atop the hillside, overlooking the Allegheny River, Troy Hill is located North of Downtown. It is a community of narrow streets lined with well kept, closely built homes. The neighborhood has the look and feel of an old European village, and residents enjoy a close proximity to shopping, recreational and cultural activities in nearby Northside neighborhoods and Downtown.

Troy Hill's architecture is dominated by brick and frame row houses. These well preserved single-family houses offer spectacular city views.

Residents are proud of the six historical landmarks found here, including original stones from the Allegheny City Resevoir, the residence of John P. Ober, Most Holy Name Rectory, St. Anthony's Chapel, the former site of the Troy Hill Incline, and the Troy Hill Firehouse. The Western Pennsylvania Firefighter's Memorial is also located in Troy Hill's Voegtly Cemetery.

Troy Hill offers three churches, a school, social organizations, stores, and restaurants. Residents and children enjoy playgrounds, ball fields, and parkland areas to sit and relax and enjoy the beautiful flowers that are planted each year. Troy Hill is also home to Pittsburgh's first Spray Park, which opened in the spring of 2009.

Since it is a little off the beaten path, Troy Hill is not a route to somewhere else, but rather a place where visitors join the residents to enjoy the special ambiance of a strong, traditional community spirit.

Washington's Landing, a 42-acre island in the Allegheny River, is also part of the Troy Hill neighborhood. This once blighted former industrial island has been transformed into a high-quality, multi-use development, offering market-rate housing, office/research and development, and light industrial uses. It also features a marina, a rowing center, and a public park, as well as the Three Rivers Rowing Association, the Department of Environmental Protection and the Western Pennsylvania Conservancy. The island is now a showcase project of the City and Urban Redevelopment Authority.
Schools
Families in Troy Hill enjoy a variety of educational options. The Pittsburgh Public School District – which was recently named one of the Country's Top Ten Large Urban Districts by GreatSchools.org – offers a mix of neighborhood schools and specialized magnet choices in or near Troy Hill, including:
Pittsburgh Spring Hill K-5
Pittsburgh Northview International Studies PreK-5 Magnet
Pittsburgh Schiller Classical Academy 6-8 Magnet
Pittsburgh Perry Traditional Academy 9-12 Magnet
Pittsburgh Oliver 9-12
Please visit the Pittsburgh Public Schools website for more information.
If you are interested in private, parochial, or charter school options, please visit the "Education" section of our resource page for links.
Libraries
The Carnegie Library of Pittsburgh is one of the oldest and most respected public library systems in the country. Established by Andrew Carnegie as a public trust in 1895, CLP has 19 locations throughout the City of Pittsburgh. Neighbors in Troy Hill enjoy these branches:
Allegheny Library
Woods Run Library
Troy Hill Links
Neighborhood Organizations

Troy Hill Blog

Parks & Recreation

Three Rivers Rowing Association
Department of Conservation and Natural Resources