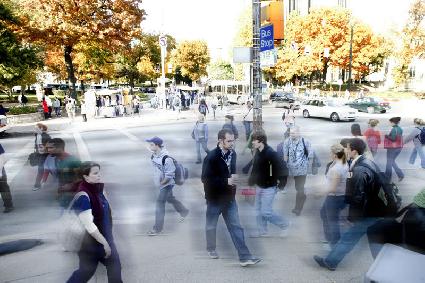 Oakland is the cultural, medical, educational and technological center of Pittsburgh, boasting many world-renowned institutions and attractions. In fact, Oakland is considered to be Pennsylvania's third largest "Downtown." Only Center City Philadelphia and Downtown Pittsburgh can claim more commerce and activity than Oakland.

Prestigious universities and museums, world class hospitals, grand architecture, quaint coffee shops, international cuisine and specialty shops create the hustle and bustle that is Oakland. Long considered the cultural center of Pittsburgh, Oakland also houses the Carnegie Library Main Branch, the Carnegie Museums of Art and Natural History, Carnegie Music Hall, and Soldiers and Sailors Memorial Hall.

The diverse population makes Oakland the eclectic neighborhood it is today. Many Oakland residents are students at the University of Pittsburgh or Carnegie Mellon University, creating a diverse student-residential body that is comprised of individuals from at least 90 nations.

An ample supply of architectural styles can be found in the neighborhood, from the Victorian homes in the historic Oakland Square to the towering high-rises along the street corridors in North Oakland.

Oakland serves as the entrance to the charm and natural beauties of expansive Schenley Park, which has come to be Pittsburgh's civic park. Set amidst the park's greenspace is Phipps Conservatory and Botanical Gardens, a great steel and glass Victorian greenhouse that has been inviting visitors to explore the beauty and mysteries of plants since 1893. In recent decades, Phipps has evolved into one of the region's most vibrant, thriving cultural attractions, bringing fresh perspectives and artists to this historic glasshouse environment.

If it's shopping and dining you're after, be sure to cruise the Craig Street business district. Once the sun goes down, grab your favorite beverage in one of Oakland's many hotspots, or a hotdog and a bag of french fries at The Original Hotdog Shop on Forbes Avenue.

Pittsburgh's two main east-west traffic arteries pass through Oakland, with bus stops on nearly every corner. Most Oaklanders get around by bus or by foot, lending a true "city" closeness and atmosphere to the neighborhood.
Schools
Families in Oakland enjoy a variety of educational options. The Pittsburgh Public School District – which was recently named one of the Country's Top Ten Large Urban Districts by GreatSchools.org – offers a mix of neighborhood schools and specialized magnet choices in or near Oakland, including:
Pittsburgh Vann PreK-8
Pittsburgh Weil PreK-8
Pittsburgh Miller PreK-8
Pittsburgh CAPA Creative and Performing Arts 6-12 Magnet
Pittsburgh Science and Technology 6-12 Magnet
Pittsburgh Milliones University Prep 6-12 Magnet
Please visit the Pittsburgh Public Schools website for more information.
If you are interested in private, parochial, or charter school options, please visit the "Education" section of our resource page for links.
Libraries
The Carnegie Library of Pittsburgh is one of the oldest and most respected public library systems in the country. Established by Andrew Carnegie as a public trust in 1895, CLP has 19 locations throughout the City of Pittsburgh. Neighbors in Oakland enjoy these branches:
Oakland Links
Neighborhood Organizations

Oakland Community Council
Oakland Planning and Development Corporation
Oakland Business Improvement District

Arts & Culture

Attractions

Soldiers and Sailors Memorial

Education

University of Pittsburgh
Carnegie Mellon University
Carlow University
Oakland Videos
Cathedral of Learning at the University of Pittsburgh