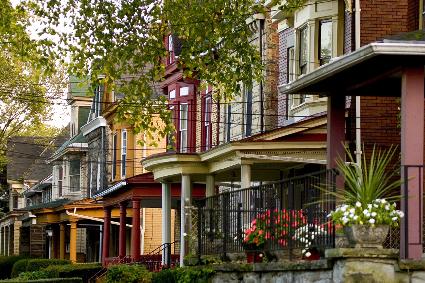 Point Breeze is located east of Downtown. Residents are able to travel into Downtown or Wilkinsburg with ease by taking public transportation along the Martin Luther King East Busway.

The residents of Point Breeze are generally young professionals with families, many of whom are associated with the city's educational and health care institutions.

Point Breeze is an attractive neighborhood, with gracious homes set back along wide streets. More beautiful homes line the side streets, one of which is paved with the original wooden block. Point Breeze is home to the Henry Clay Frick mansion, the Frick Museum, and Frick Park.

A quaint business district anchored by the renowned Point Brugge Café provides a gathering space for community residents. The neighborhood is also convenient to the Squirrel Hill, Regent Square and Shadyside shopping districts.
Schools
Families in Point Breeze enjoy a variety of educational options. The Pittsburgh Public School District – which was recently named one of the Country's Top Ten Large Urban Districts by GreatSchools.org – offers a mix of neighborhood schools and specialized magnet choices in or near Point Breeze, including:
Pittsburgh Greenfield K-8
Pittsburgh Colfax K-8
Pittsburgh Minadeo PreK-8
Pittsburgh Linden International Studies K-5 Magnet
Pittsburgh Sterrett Classical Academy 6-8 Magnet
Pittsburgh Allderdice 9-12
Please visit the Pittsburgh Public Schools website for more information.
If you are interested in private, parochial, or charter school options, please visit the "Education" section of our resource page for links.
Libraries
The Carnegie Library of Pittsburgh is one of the oldest and most respected public library systems in the country. Established by Andrew Carnegie as a public trust in 1895, CLP has 19 locations throughout the City of Pittsburgh. Neighbors in Point Breeze enjoy these branches:
Squirrel Hill Library
East Liberty Library
Point Breeze Links
Arts & Culture

Frick Art and Historical Center
Neighborhood Organizations