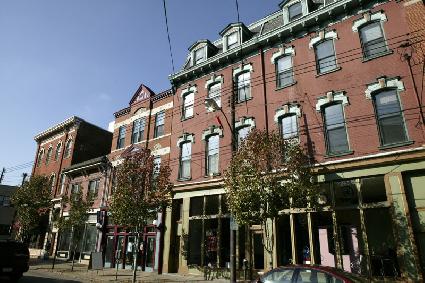 A large, historic neighborhood close to Downtown, Lawrenceville is becoming known for its locally grown businesses, friendly community feel and creative vibe. Whether you're talking to a Lawrenceville lifer or a neighborhood newcomer, you'll find that people can barely contain their enthusiasm for this place.

Welcoming, walkable and weathered by a rich history, Lawrenceville is like a little village. The recreational opportunities of parks and the Allegheny River lend some green spaces to this otherwise urban area of the city.

Lawrenceville is affordable and a good investment. Whether you're renting or buying a home, going out for dinner, or getting a haircut, good living is within reach. Lawrenceville is a charming mix of old and new, where the shabby and the shiny new exist side-by-side.

Lawrenceville is an engaging neighborhood. Residents have choices to get involved, whether it's purely social or civically minded. From play dates to happy hours, or community clean-ups to Art All Night, Lawrenceville offers a way for singles, couples, and families to connect.

Most of the city's major employment centers, including Downtown, the North Side, and Oakland, are just a bus ride or short commute away. Pittsburgh's interior design community also calls Lawrenceville home as part of the 16:62 Design Zone. Residents can live a car-free lifestyle here, with business districts that serve every need within a few blocks walk.
Schools
Families in Lawrenceville enjoy a variety of educational options. The Pittsburgh Public School District – which was recently named one of the Country's Top Ten Large Urban Districts by GreatSchools.org – offers a mix of neighborhood schools and specialized magnet choices in or near Lawrenceville, including:
Pittsburgh Sunnyside PreK-8
Pittsburgh Arsenal PreK-8
Pittsburgh Peabody 9-12
Please visit the Pittsburgh Public Schools website for more information.
If you are interested in private, parochial, or charter school options, please visit the "Education" section of our resource page for links.
Libraries
The Carnegie Library of Pittsburgh is one of the oldest and most respected public library systems in the country. Established by Andrew Carnegie as a public trust in 1895, CLP has 19 locations throughout the City of Pittsburgh. Neighbors in Lawrenceville enjoy these branches:
Lawrenceville Links
Neighborhood Organizations

Lawrenceville United
Lawrenceville Happenings

Arts & Culture

16:62 Design Zone
Lawrenceville Videos
Great Neighborhood Bars in Lawrenceville