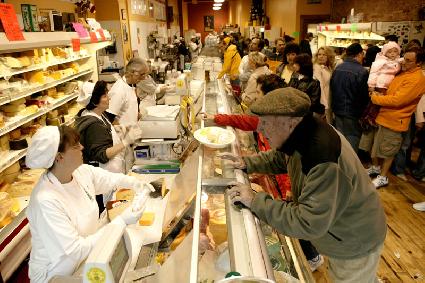 The Strip District is the historic market district of Pittsburgh, adjacent to Downtown alongside the Allegheny River. Every neighborhood has its own unique vibe, but there's nothing like the Strip District anywhere else in town – or perhaps the entire world.

Arrive on a bustling Saturday and see why The Strip is one of the biggest draws in Pittsburgh, with its ethnic grocers, street grills, sidewalk merchants and string of small shops. A neighborhood doesn't get more authentic than this: long blocks of side-by-side stores with old wooden screen doors that still bang shut, hand-lettered signs on produce bays, and tantalizing smells of aged cheese, fresh roasted coffee or just-popped kettle corn.

Once the sole home of wholesalers working out of massive brick warehouses, today the Strip is still functional but also fun and funky, a blend of old and new that is as much known for its nightlife as its merchants and fabulous food.

Now many of the old brick buildings have become a hot commodity for developers interested in creating one-of-a-kind lofts. For many city-dwellers the Strip is rapidly becoming a touchstone of hip urban living – where the ceilings are high, the windows are tall, and luxurious spaces can still be rented or purchased for a reasonable price.

If you want food, the Strip is your mecca: from the renowned Parma Sausage and Benkovitz seafood to specialty foods from around the world. The Strip is known for offering the freshest food available at some of the lowest prices.

Fortify yourself with culture at the Heinz History Center and the Society for Contemporary Craft during the day, and venture out for vibrant nightlife after the sun sets along the Allegheny. Whatever type of music moves your body, the Strip is the place to be. On the way home, stop by Pittsburgh's famous Primanti's Brothers to experience one of their sandwiches stacked high with fries and coleslaw – a Strip District original creation and the perfect late-night snack.
Schools
Families in Strip District enjoy a variety of educational options. The Pittsburgh Public School District – which was recently named one of the Country's Top Ten Large Urban Districts by GreatSchools.org – offers a mix of neighborhood schools and specialized magnet choices in or near Strip District, including:
Pittsburgh Sunnyside PreK-8
Pittsburgh Arsenal PreK-8
Pittsburgh Peabody 9-12
Please visit the Pittsburgh Public Schools website for more information.
If you are interested in private, parochial, or charter school options, please visit the "Education" section of our resource page for links.
Libraries
The Carnegie Library of Pittsburgh is one of the oldest and most respected public library systems in the country. Established by Andrew Carnegie as a public trust in 1895, CLP has 19 locations throughout the City of Pittsburgh. Neighbors in Strip District enjoy these branches:
Lawrenceville Library
Downtown/Business Library
Strip District Links
Neighborhood Organizations

Neighbors in the Strip

Arts & Culture


Attractions

Heinz History Center

Grocery Stores

Strip District Videos
POP City: The Strip District